08 apr

Verdensmester og Rune opptrer sammen!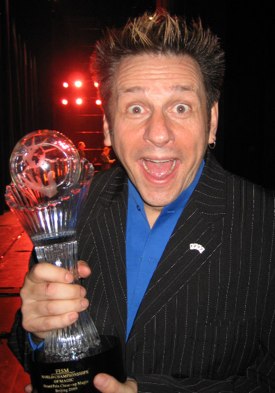 I anledning et privat arrangement i Sverige, opptrer tryllekunstner Rune Carlsen, sammen med en verdensmester i trylling, – Shawn Farquhar.
Rune har tidligere konkurrert mot Shawn Farquhar under verdensmesterskapet i trylling i Beijing i 2009, hvor Shawn gikk av med seieren og tittelen «Grand Prix World Champion of Magic». I etterkant har Shawn også lurt Penn & Teller ved flere anledninger under programmet Fool US.
Senere i 2013 skal tryllekunstner Rune Carlsen også konkurrere i en av de største konkurransene for tryllekunstnere. Under «The International Bortherhood of Magicians Annual Conference» vil Rune måle kreftene mot verdenseliten nok en gang. Dette arrangementet arrangeres forøvrig av I.B.M hvor også verdensmester Shawn Farquhar er medarrangør og fagdommer.
Det blir et gledelig gjensyn med en kreativ, morsom og givende artist!