27 jun

Til USA for å vinne internasjonale priser
USA neste
USA er mulighetens kontinent, og nå er det under én uke til konkurransen «The Society of American Magicians» (SAM) og drøye 2 uker til konkurransen «I.B.M. Gold Cups Close-Up Contest» (International Bortherhood of Magicians) går av stabelen. Men er jeg klar for konkurransene?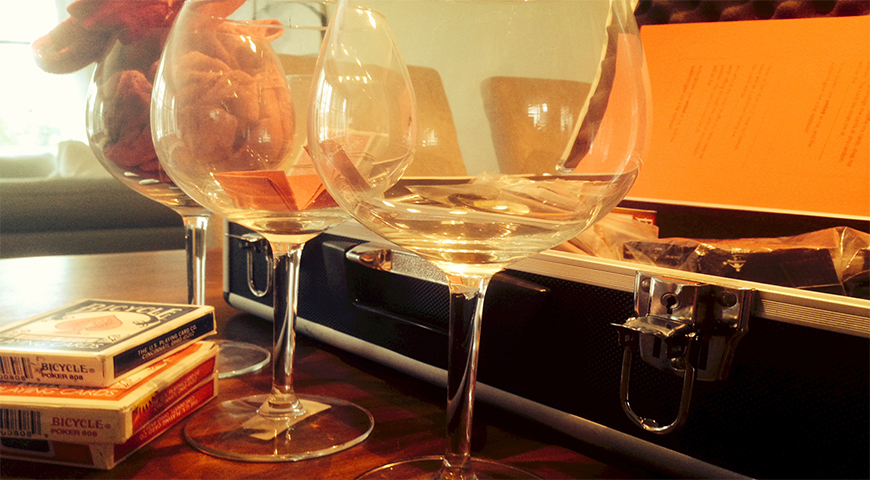 Man blir vel egentlig aldri 100% klar, da det alltid er noe som kan være bedre. Og det er alltid noe man skulle ønske kunne gjøres annerledes. Men etter kveldens 10 gjennomkjøringer, føles det som det er der det skal være. Det betyr at akten sitter 99% og at jeg ihvertfall unngår tekniske feil i mine gjennomkjøringer.
Kvalifisert
Det er kun en håndfull personer som får delta på disse prestisjetunge konkurransene, og jeg ble kvalifisert via oversendte videoopptak etter å ha vunnet flere andre internasjonale premier. For en del år tilbake ville dette vært utopisk, noe som idag gjør meg stolt. Å stå på en scene og konkurrere med flere av de beste i verden gjør meg særdeles ydmyk.
Flere konkurranser
2 ulike konkurranser
Konkurransene i USA er veldig forskjellige. Mens SAM vil foregå på en stor scene og sal, med filmoverføringn til store skjermer, så vil I.B.M kreve at du fremfører akten din 3 ganger, for 3 ulike publikum på 3 intime scener, med 3 ulike dommerpanel, og med publikum tett på deg. Selv om man skulle tro at det siste var å foretrekke i nærmagi, så har begge sine fordeler og ulemper. I en stor sal mister du mye av intimiteten, og akten din må spille stort for å nå ut til publikum. Det at det filmes og prosjekteres, er på ingen måte et direkte pluss. Kanskje heller motsatt.
Det setter strenge krav til deg som artist, dine bevegelser, din misdirection og hvordan du kommuniserer med publikum. Å ha publikum veldig intimt, skulle man da tro var det beste, men det kommer igjen litt an på akten din. Jeg håper publikum ikke sitter alt for tett på, men det gjenstår å se. Det vil gi meg et par utfordringer uansett 🙂
Forventninger
Jeg sier som jeg alltid sier, – mine forventninger er at jeg går av scenen og er fornøyd med min egen gjennomføring. Jeg vet at akten jeg har idag, er bedre enn den jeg hadde for et halvt år siden, og da fikk jeg premie (Award of Merit) under arrangementet London International Close-Up Competition. Men dette betyr ingenting nå. Ny konkurranse, nye deltakere, nye akter, nye dommere. Ja, blanke ark. Det går som det går!
Wish me luck!